Do You Have A 'Nose' For FINE HALLOWEEN DECOR..?
| | | |
| --- | --- | --- |
| Have YOU seen our NEW ~ | | ~ Shop? |
Yes, those noisy little nightmares, The Poisonous Pumpkins, have garnered
a full-figured 8 MILLION Views on YT - and they're STILL CLIMBING --
( - like their nasty little vines..., Eeek!...)
-- on toward HALLOWEEN 2022...!
To all our Peculiar Viewers and Good Fiends out there ~ you're the best Victims -- er, Visitors the Pumpkins could wish for!
Set your seats to Lounge-Factor 7, kickback, and listen to a trio of Awsome Audio Adventures...!
Feeling 'crafty'...?
Take an inspiring peek at some unique DIY imaginings ~

Shari Mendez' Little Graveyards show off the petite possibilities for table-top mini-dioramas.

When it's too hot to haunt, and yet, 'haunt-you-must', take a cue from Shari's own brand of macabre whimsicality and see what you can summon from your local crafts store...

Click Above for MORE...
"The Prowling Pumpkin"
Visits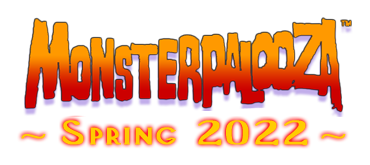 The rather scary Entry Line went On...,
And On..., and On...
...But -- once the Pasadena Convention Center doors were opened, it moved surprisingly fast...
There was Outstanding Classic Monster Artwork for sale...
There were Monsters-in-the-Making!

It, um, does seem that "ears" were rather a recurring motif --

-- eh what...?
There were Miniature Maiden Models ~

~ and Full-sized Mounted Monsters!

Plus Tiny Larry Talbots --

-- with telling traumatic tribulations...

(Little Larry looked a bit un-glued, and we could understand why...)
Legendary Make Up Effects Wizard
Rob Burman
conjures up a new character vision right in the midst of mezmerized Monsterpalooza-goers...

At least the ears look normal here, yes... ?
The late, great Forrest J. Ackerman, or at least a fantastastically realistic replica, was in proximity to Celebrated Company...
...Including other incredibly realistic, not-at-all-real people --
-- And astonishing personalities representing --

-- Both Sides of "The Pond".

(aka, Swamp)
Yes it was another great show, with world-class Artists, Vendors, countless creative displays -- and no shortage of "Monsters" at all...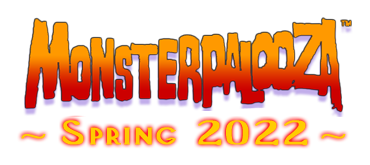 What's 'The Buzz' as Summer thrives...?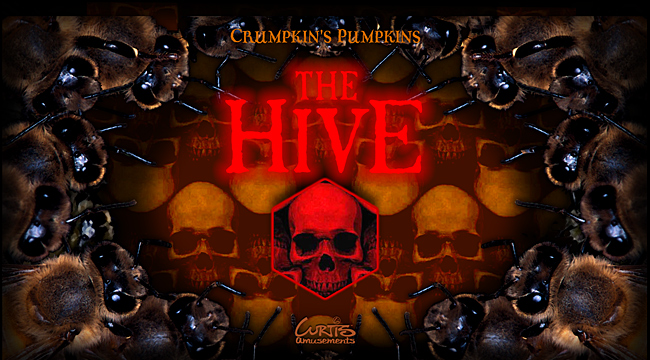 (The Pumpkins know it
isn't
'flies'...!)
Here's a fable for you, friend, whose villain meets a 'sticky end'...
(Come for a visit -- and then Run-For-Your-Leaves!)
Looking to get out of the House?
Looking for a nice cozy READ...?
Here's one of Lumpy's Favorites ~
(With a rare authentic "Post Script", from 'The Papers of Deidrich Knickerbocker'...)
~ Also! ~
" Carve into a little hauntingly-whimsical tabletop charm ~ "
Shari Mendez conjures-up the coziest little graveyards any pumpkin-passionate Hallow's Eve-enthusiast could envision...
She's not out-of-her-gourd, she's INTO it...
Skillfully realized and imaginatively creepy, Shari's visions may inspire You to tackle some tabletop realizations of your own!
| | |
| --- | --- |
| | the banner above to visit ~ ! |
Relish a SHOW REVIEW
of "The Crumpkin's Pumpkins' Pumpkin Pie Cart's"
awfully awesome appearances!